The new information technologies (ICTS) are one of the essential scopes of action for the Law Firm Abogado Amigo. The new technologies are means by which our team of lawyers deploys all their activity related to the different fields of law. The ICTS are much more than channels of communication and offer us a growing number of initiatives and actions. That is why the Law Firm Abogado Amigo is involved in the use, knowledge and study of the technology resources in order to offer a legal answer and integrated technique with added value. The ongoing training of our lawyers is our compromise. If you or your company need an expert lawyer in new information technologies who understand your problem in order to achieve the best effective solution, you may contact our Law Firm just using this form.
New Technologies Attorneys
Despite the fact that sometimes it is talked about New Technologies Law or ICTS Law, we must not disjoin the processing as an independent branch of the legal system, but technological connotations are involved in the other branches of Law own development. That is why our skilled lawyers in computing (IT ) respond to the challenges that New Technologies present in each branch of Law.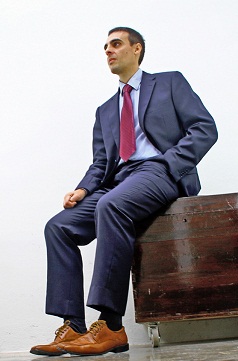 As manifested by Jesús P. López Pelaz, Director of Abogado Amigo "technology is, at the present time, a partner which is unavoidably linked to Law. Internet is the way". It is the challenge of New Technologies Attorneys.
Technological Civil Law: In the Civil scope the new technologies, computing and internet demand from us the developing of contracts that respond to the posed needs like the "escrow", content licenses, services agreements, creation of web sites or software, as well as adjustment of traditional contracts to internet channel with the use of gears such as electronic signature.
Besides our digital patrimony will generate a digital inheritance which we must be able to set up and arrange in order to assure its efficiency.
Technological Criminal Law: Cybercrime includes both typical and exclusive actions through telematic systems (such as the informatics damages crime) as others which are reprehensible in any media, but get a special importance when they are done through internet or using technological means: crimes against honour and against industrial and intellectual property, threats……
Specialist Lawyers in Internet
Technological Commercial Law: Thanks to our team of specialist lawyers in Commercial Law, we are able to offer integral solutions to the entrepreneurs who come to our Law Firm : From birth and constitution of the company, the business model development in a "startup", the writing of partners agreements, to the writing of licenses, contracts of software development, brand name protection in internet towards illegal or disloyal uses by competitor, recovery of registered domains by third parties infringing their trademark, advice for implementation of corporate web sites.
Data Protection: implementation of data processing operations corresponding to the Organic Law on Personal Data Protection and its regulations

Web Attorneys
Administrative Law and New Technologies: Is increasingly in the European Area through the movement Open Government, administration bring near the new technologies to citizens and allow them to take part and make the processing through telematic services.
Consumers and Users: Claims against telephone corporations and provisions of information society services by contracting as users that may be made with them.
IT Attorneys
Labour Law and ICTS: New Technologies are also present in the labour field, enterprise social networking, confidentiality, reputation on line, use of trademark.
Social Networks and Law: Particularities involved in the use and interpretation of social networks users determine to be necessary to provide them the best personalized assistance in order to ensure the protection of legitimate interests for both individuals (impersonation and criminal offences against honour) and companies (violation of the trademark and unfair competition).
ICTS Expert Attorneys
The Law Firm Abogado Amigo has its main office in Valencia and other delegations in Madrid, Barcelona, Cartagena, Valladolid and Italy (Ferrara).
If you or your company need a specialist lawyer in new information technologies, who understand your problem in order to search and achieve the best solution, you may contact our Law Firm just using this form.